Review of the Baby Brezza Formula Pro, is it Worth it?
Wait, it's like a Keurig for Formula?
Author Karin Cypriano / Lenny Lemons / Published: Jan-23-2019
Is this a dream? My last baby was born almost 3 years ago and I am feeling a bit prehistoric. Have you heard of this magical thing are moms are raving about called the 'Baby Breeza"
Picture this. You're all cozy in your bed in the midst of a deep(ish) sleep when all of a sudden you hear a faint sound. It's off in the distance and now it sounds like its getting louder and more alarming. Hold off on the dream mom, you've recognized that sound as your crying baby. That dream of drinking mai tais on the beach will just have to wait for the next REM cycle.
What if, instead of you marching downstairs to make a warm(ish) bottle in the middle of the night, you could push a button and in seconds a warm bottle is at your fingertips. Y'all...
No, no, we know you don't have a full-time nanny, that's not where we're going here, although that is a good dream to have as well. This, my friend, is the "Baby Brezza Formula Pro".  
I've had 5 children over the past 10 years and made a ton of bottles. A good percentage of those bottles were made during the night and despite my love for my husband, he's a total turd at night! He can sleep through a tsunami and wake up completely rested.
"Good morning honey, how was your sleep," he'd say after a solid morning stretch. 
I remember glaring at him thinking he has to be making this up.  There is no way he slept through all that crying, right?
Sure enough, night after night, he was sound asleep.
Nonetheless, the babies had to get fed and nobody ever said life was fair, so on it went.
The motherhood duties commenced.
I was working on a blog the other day called 'Things You Need for a Newborn + What I Regret Buying' and I reached out to our 116K millennial moms on Insta for some help.
There were all sorts of moms that chimed in with their favorite things.
Moms of twins, working moms, SAHM, new moms, and seasoned moms, all different types of moms all looking for the same thing.   We all want to squeeze the joy out of motherhood!  
Comfort, convenience, and ease and helpful proponents of a joyful motherhood.  It was great hearing feedback from our tribe!
When asked what their favorite baby items were (outside of the necessities) there was a new surprising answer. 
Any guesses?
It was the infamous BREEZA.
This, being outside of diapers, clothing, food, and of course... a mothers love. You need all of the necessities for newborn.
Overall, based on the concept of a formula mixing bottle machine, it didn't surprise me that moms were raving about the Baby Brezza, but there were, of course, some people that didn't like it. Some chimed in saying theirs didn't mix properly, broke, or made bubbles in their formula.
I was fascinated and had to do my own research because it seems like such an awesome convenience and I could see myself loving it when I had babies. Convenience, yes please, give me all of it.
The Baby Brezza Pro deems itself as "the most advanced way to automatically make a warm, formula bottle instantly". It'll mix, heat, and serve a bottle with the touch of a button. Think a Keurig for formula, it's got a similar look and purpose, but luckily for all of us, it isn't serving babies coffee 😉
Let's check out some of the features of the Brezza:
Fully customizable mixing system:
Essentially having a customizable mixing system, you're able to cater the right amount of formula to your growing baby. In the early stages of feeding, your newborn will take about an ounce, the Brezza can do that. Later on, when your baby takes more formula, you can press the button associated with the size of the bottle you need to make. Cool eh?
The other cool part of its customizable mixing system is they offer 3 different temperatures of water based on what your baby likes best. The three options are:
room temperature

body temperature

warmer than body temperature
Freaking brilliant. The customized settings on the Brezza are wonderful to make the perfect bottle for your baby.
All digital controls:
Well done here Brezza. The entire concept of the machine is a convenience for parents. By adding simple touch, digital buttons, they've made it ever so easy to use. You won't be standing in front of the machine trying to figure out how to operate it while your baby is screaming in your arms.  
Sigh. Of. Relief.
Works with All Brands of Bottles:
There might be nothing more annoying than buying something and not being able to use it. Years ago I bought a stroller and the company said my infant stroller wouldn't fit and I'd need to buy theirs. I was so angry, it was either ditch the stroller or ditch the car seat. What a frustrating waste!
The Brezza earns all the cool points here because it's compatible with any type of bottle and size. If you're hooked on your Dr. Browns glass bottles, great keep using them. Can't live without your Como Tomo bottles? Great, keep using them!  
If you want to jump over and use Baby Brezza bottles, they offer a good selection of great bottles too. You can use them, but if you have bottles you use and like already, stick with those.
Works with Most Formula:
Going along with the previous adaptability factor, this is really helpful! Every baby is unique and will have different tolerances, preferences, and taste. It'd be terrible if they said only a few formulas are compatible with this machine with the variety of formula parents use.
The company says that the Brezza works with 'virtually all formulas' which is great news for most parents. A couple of reviews mentioned the formula clumping in the past, but it seems like they've updated the product and made changes to the formula cartridge.  
Airtight formula storage:
The Brezza formula storage compartment can hold enough formula to make 20 full 8oz bottles. Another check off the convenience list and even better than the Keurig if you think about it. When making your coffee, you add a new pod each time, this one will work for days before having to add more.
The airtight compartment also protects the formula from being exposed and clumping, spoiling, or becoming unusable.  
Dishwasher safe removable compartment:
The Brezza has a wide mouth opening to pour your water into and will hold up to 50 ounces of water. They've thought of all the small details to make life easier for a new mama.  
It's also removable so you don't have to try and manipulate the container to clean. You can simply pop it out and stick it in the dishwasher. It's easy to put back together and you get the peace of mind of giving your baby a clean bottle that you know has been properly washed.  
Modern, sleek design
Do you remember when juicers were really popular? Or food processors? They were these incredible machines making culinary masterpieces, but they were always such a pain to keep on the counter. They were giant, bulky, and ultimately they lost their flare. They became a hassle.
One thing that's nice about the Brezza, is it's really compact. You can leave it on the counter or upstairs on your dresser without it looking like a giant artifact from a World War II museum. It's got a chic, classy look and will fit right into your home. It's also lightweight so no husbands are required to move it, aka total girl power 👯
What are the pros of the Baby Brezza?
There's a lot to love about the Brezza. Its innovation for bottle making is second to none and overall, it's a total win. Let's look into the advantages of having a Baby Brezza Pro:
convenient
lightweight
easy to clean
easy to operate
can use with the touch of a button
customizable to the needs of your child
works with a variety of formula
works with any baby bottle on the market
makes bottles quickly
dishwasher safe
an easy and safe place to store formula
compact and looks great in the kitchen
tried and loved by thousands of moms
What are the cons of the Baby Brezza?
There are two sides to every coin and some frankly, didn't find the Brezza to be helpful. Like the iPhone, the Brezza has innovated past their initial release adjusting to the suggestions of its users. Here are some potential negatives about the Brezza:
Doesn't work with all formula and you may not know until you try it
It's got a higher price point, but those that love it say its worth it
May require some manual cleaning
You can't do half ounces and could be wasting formula if your baby needs 3.5 ounces vs. 4 ounces
Many of the negative reviews for this product seem to be from not reading the directions. When you get the Brezza, be sure to read the manual to be sure you're setting it up right and operating it properly before use. Also, be sure to do a test run before handing your baby a bottle. Is the temperature right? Is the formula mixed? Do you notice anything odd?  
If you do your own due diligence, it seems the Brezza can still be a big help.
What's the verdict on the Brezza?
Despite the handful of cons we listed above, we still think it's a solid win for parents looking for convenience. Based on the hundreds of recommendations from our own wild mama tribe and Brezza reviews from parents on Amazon, it's a helpful addition to motherhood.
Here's a review from Smyrna about her Brezza:
'Was on the fence about buying being I was having my third child, but LOVE LOVE this machine. My children are all 6 years apart and with each child, new products have come out. My 6 yr old loves helping and it's just one button for him to push. Recently bought one for a baby shower gift because I know they will enjoy this machine as much as us! We are thinking about purchasing another one to keep at the grandparents for when I go back to work. We also purchased the baby sanitizer love it! No more boiling bottles! And now I wished I would have purchased their bottles. We have our instant coffee machine and baby girl has her instant formula maker!'
Looking back, it's stressful when your baby is losing their marbles for a bottle and you need to run downstairs and whip one up in the middle of the night. It's not the end of the world, but it feels like unnecessary anxiety and stress.  
Evolution is a beautiful thing and we love this helpful innovation for making bottles. It makes parenting a bit less stressful and that in itself, is worth it.
Other helpful suggestions
They also make a cool sterilization and drying system to go along with the Brezza Pro that is helpful for an easy cleaning sesh post use.
If you've cleaned bottles in the past, you know that is one of the worst parts of motherhood 😭 Getting that bottle brush in all the nooks and crannies of the bottle doesn't sound terrible, but when you're doing it up to 10 times per day, that's where the hatred creeps in.
The company definitely has a handle on the difficulties of motherhood because they offer safety and convenience at your fingertips in multiple ways.
Baby Brezza Universal Baby Bottle Sterilizer and Dryer
This machine has 4 different settings based on your needs. It can sterilize, dry, sterilize and dry, or store your clean bottles. That's pretty awesome!
If you need to clean your bottles, it can hold up to 6 at a time as well as the associated parts. Their steam system kills 99.9% of germs in just 8 minutes. That's faster than I can run a mile... by a long shot at this point.  
The storage component is really for your bottles. After the bottles have been cleaned, you'll want to keep them both clean and sterile. Just leave them in the machine and you'll have both.
Like all machines that are awesome, it's easy to use and comes with a one year warranty. Now you're speaking my language 😉
Enough about the sterilizer, but if you hate cleaning bottles as much I do, moms also rave about this bottle cleaner that is the helpful counterpart to the Baby Brezza Pro. Do it for your sanity, believe me 🙋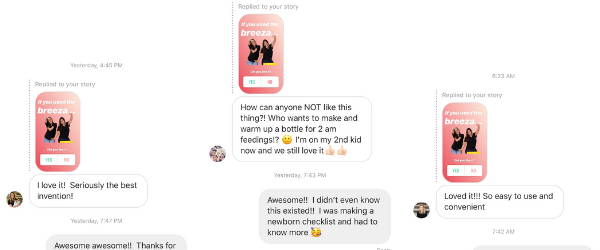 Read Next: