My Motherhood Cleaning Hack
How Did I Ever Survive Without it?
12 Apr • Karin Cypriano • (Crazy) Mom of 5
---
Motherhood is Dirty. Rowdy. Unruly.  
What exactly does Christina Aguilera say again?
Dirty
Filthy (filthy)
Nasty, you nasty (yeah)
Too dirty to clean my act up
If you ain't dirty
You ain't here to party (whoo!)
Yeah, that's right. Moms you dancin' yet?
Although this song came out long before we were worried about keeping our homes tidy it's relevance to chores today is pure mockery ;)
Side note: Do you think X-tina cleans her own floors?
We are discussing a nasty subject. Just stop and look down for a second, do you ever look at your floor at home wondering HOW it got so dang dirty?
Then your gaze ventures over to your sweet adorable munchkins throwing Cheetos at one another...
Oh sweet beautiful angels.  
Have you ever seen those memes online that talk about how many jobs the 'modern' mom has? Ain't no Mrs. Cleavers up in here anymore, we are Mrs. Everythings.  Like a solid 100%.
Those memes are always so insightful, so much that I'll run straight to my husband faster than Beyonce in a costume change backstage.  YO, look at how amazing I am babe!
Needless to say, we've got a lot on our plate.  And the plate is not getting any smaller, amiright?
BTW, the income bracket for a mom today is around $162,000 said Salary.com last year.
Champagne anyone?  
---
So what's the trick here?
A couple of years ago, we bought a house. Along with the house, I asked around for some advice. I mean a house is awesome, but who's going to keep this place clean?  The kids need a few years to be deemed reliable cleaners and there are only 24 hours in the day!
I ended up reaching out to my mom, sisters, and a few friends asking them each the same question. "I'm buying a house, what do we need?"
It was like they'd discussed it over brunch already without me (rude).  They all had similar answers!  The raved about those little robot vacuums and I rolled my eyes to each and every one of them.
"Those things are creepy and I doubt they even work",  I said with a hint of sass.  Gahh, maybe I would have to count on my kids after all.
Gulp.
A few months in, I caved and bought this one.   
It showed up to my door a few days later and I literally left it untouched, trying to decide if it was even worth the shot.
When I finally pulled it out of the box and put the pieces together, my expectations were suuuuuuper low.  Maybe like... blind date low?
Eventually we tried it, then we tried it again and again...
I started to appreciate the extra help around the house.  Soon the appreciation turned to expectation and I was DAMN sure that thing was on the charger all day so it could report to duty after hours.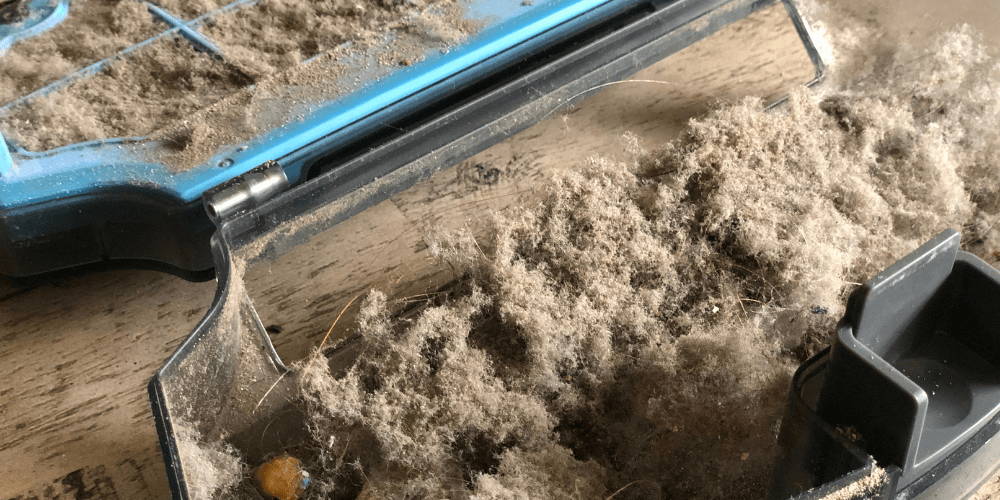 Above: This was today from one of our rental units! EKK!
Fast forward until today, I've used it 3 separate times... and it's 3pm.  I wish I could offer it a snack or some lemonade or something...
How lovely it is to be able to pass up the majority of sweeping these days.  After dinner we still pull out the ole broom for a quick sweep.  Until my kids have a higher mouth to floor ratio for their dinner we shall party on.  #REALLIFE
This little robot now occupies a large place in my heart and has my full protection. We call him 'DB' and he is magical. He scoots his little self around the house with such grace, discipline, and dedication.  Did I mention he doesn't talk back?  What a treat.  
I've told my children multiple times he's my favorite child. My oldest always says, "Mom you're taking it a little far." And to that I reply, "Would you like to do his job?" 
I claim to always be right and for this, I'm glad I wasn't. It's like finding a treasure box of all your favorite things as a kid... just more helpful ;)   
Back to the 999,991 things on the momming list. Somebody bring me my wine!
When is the automatic laundry folder coming out?  Any ideas?  
Xx,
Karin
PS: Our floors are vinyl and marble, with some light carpet here and there. I can't vouch for carpet, but below is the one my friends deemed as their carpet hero.   #MAGIC
Read Next: