I'm strongly reminiscing right now thinking back to the absolute best family vacation we've ever had. It was two summers ago and our plan was to spend uninterrupted time as a family and explore somewhere new. Oh sweet family bonding! (Are you playing clips of 'Christmas Vacation' in your mind?)
We have traveled in the past, but generally for back and forth to see family.   It's hard to see the world when you're always traveling to the same place! We were itching for something different, something we hadn't done before.
I remember telling a few friends about our upcoming summer travel plan. Most of them asked if we were crazy. Um, isn't that part a given? At the time, our kids were 9,6,3,2, and 1. They were little squirts and traveling with kids can be an absolute terror in itself. In fact, it had been many times before! We've learned a lot along the way and recently shared our tips for traveling with a baby.  
So, where in the world does a family of 7 go, adventure, and call it their best summer vacation ever?  
Alaska baby. Alaska!
Image: Horsetail Falls en route to Valdez, Alaska
You may think WTF? I get it! How is that an awesome vacation? Um, isn't there like nothing in Alaska? EXACTLY. Did you see reindeer? YES!
Before you close your browser, listen up ma. My goal is to see as much of this beautiful earth as possible and share it with my family. I've spent time in Vegas, partied + loved it. I've seen the history of Boston, loved it. I've been to east China and got complete culture shock, but think I could do it again and love it ;) I've promised to make my life about experiences of all sorts and share them with real humans.
Now, this trip was different.  We decided to rent an RV for 15 nights, yes with 5 kids! I told you we were crazy. We wanted to see a lot, have tons of freedom, and the thought of sitting in a hotel room with our boisterous crew was not an option.  The RV was actually cheaper than renting a hotel room and a car!
We had little to no itinerary when we arrived. In fact, our only plans were to stop and grab a modem thing so we could occasionally work and stock up on food at Walmart. Hardly enough to fill up fifteen whole days! Anyone wanna snuggle?
We arrived to pick up our RV at check in around 11 am.   We were exhausted from flying and I remember being in a small room to watch the informational video before they would give us the RV keys. My husband and I both fell asleep and I'm pretty sure the staff could tell through the ahem, glass windows. The kids had all the energy and were seemingly wide awake. We figured they caught enough of the info and decided to journey on!
When we got into the RV for the first time, the kids were asking if we could live in it forever. I'm not sure if that's supposed to make you feel better or worse about your life choices as a parent? Nonetheless, their excitement was contagious and we were all ready for 2 weeks of, well, we still needed to plan that actually.
xv
I remember what it felt like to first venture down the road in what felt like a house on wheels. I was a bit panicked actually, SLOW IT DOWN HUNNY! Our RV was pretty giant, 30+ feet and it'd shake on the windy highways. I would (suspiciously) sneak to the back bed and snuggle our two littlest every time we hit the road. My husband seemed really sure that I agreed to drive at some point, but I begged him to allow me to champion the snuggling the entire trip because I didn't trust myself with a 30-foot road monster. Was he crazy?
Fair is fair.  
Scared is scared.
We flew into Anchorage and quickly googled best destinations in Alaska to form the official game plan. We decided on Kenai, Fairbanks, Valdez, Seward, and Whittier. It seemed like a good outline for our trip without committing us to drive hundreds of miles each day.  
Timeout, do you know how big the state of Alaska is? I knew it was big, but I didn't realize just HOW BIG it was until we got there. According to World Atlas, Alaska is not only the biggest state in the USA, but it's as big as the 22 smallest states combined.  
In relation to the entire map of Alaska, we barely scraped the surface. In fact, I would LOVE to go back and cover some more! I was obsessed with just how beautiful it was. The air felt so clean and fresh and there was so much water around us. Freshwater in the mountains and of course the ocean around the coasts. It was such a rich blue color and I remember the shock of how cold it was. We had actually planned a polar plunge and all wimped out!
We went there in June, so we were all in awe of the near 24 hours of light. In fact, the older kids were like, technically, we never have to go to bed! I vividly remember driving past Denali at midnight on our way up to Fairbanks and it was light out! Unforgettable.
We loved the ability to park our camper mostly anywhere and 'camp out' for the night. We'd pull out our chairs, the kids would run around, and we'd just be enjoying our perfect moments together surrounded by Alaska's epic beauty. There was so much freedom and a feeling of simplicity that I just couldn't get enough of.
Here is our itinerary and what we loved most in Alaska:  
Day 1: Flew in, picked up RV by 11.
We were trying to figure out how the RV thing works, where do we park, do we need a permit? We discovered that Walmart would let you park in their parking lot for up to 24 hours. Cha-Ching! Thank you, Walmart!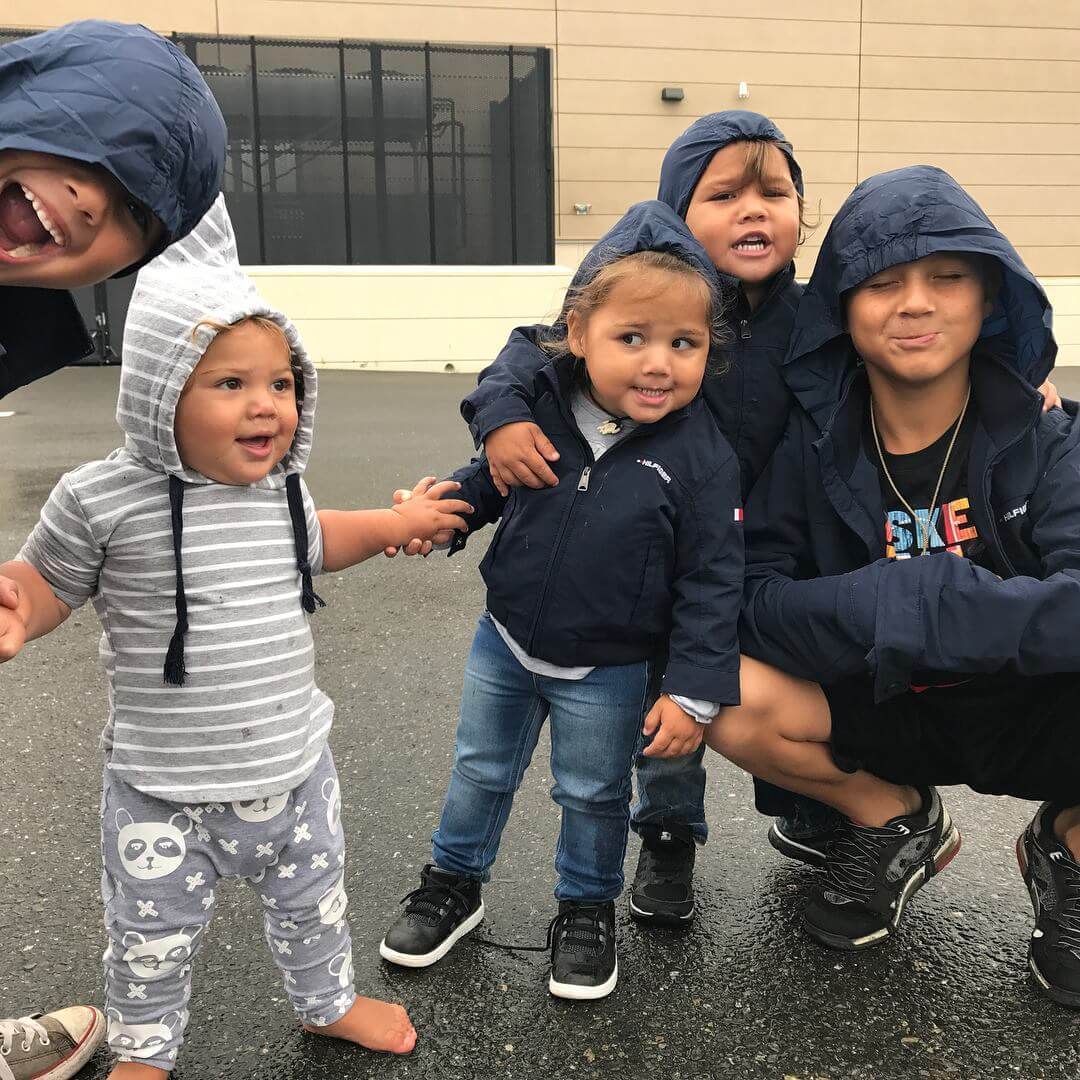 Image: Running around in the Walmart parking lot.  
Day 2: We had big plans, but didn't really do anything! We went shopping for a couple of hours in Walmart in the early afternoon, then finally pulled away at 5 pm. Oh, sweet good intentions!
Later this evening, we pulled up to Kenai. We actually thought we found an incredible spot along the ocean, but when we got out of the RV and walked toward the ocean, we realized we were on the edge of a giant cliff. EKK! It was still beautiful but I freaked thinking about oversleeping in the AM with the kids climbing out to explore. Moving onto a more level location. Down the road!
Day 3: This was our first long driving adventured. I vividly remember staring out the windows in complete awe of the scenery and simultaneously freaking out because the RV was swaying along the coastline. SLOWWWW DOWN HUNNAY! You know you've got a good husband when he rolls his eyes and laughs ;) PSHHHH.
Day 4: Our mission was to get up to Denali National Park. There were some rules about going into the park and how long you needed to camp for, so we opted to admire it from afar and have more freedom to carry on. We got to see Mt. Mckinley and many beautiful towering mountains along the way. It was so majestic and peaceful!
This was a long driving day for us. My hubby handled it like the champ he is and the kids were content watching some store bought DVDs along the way. There was peace in the RV!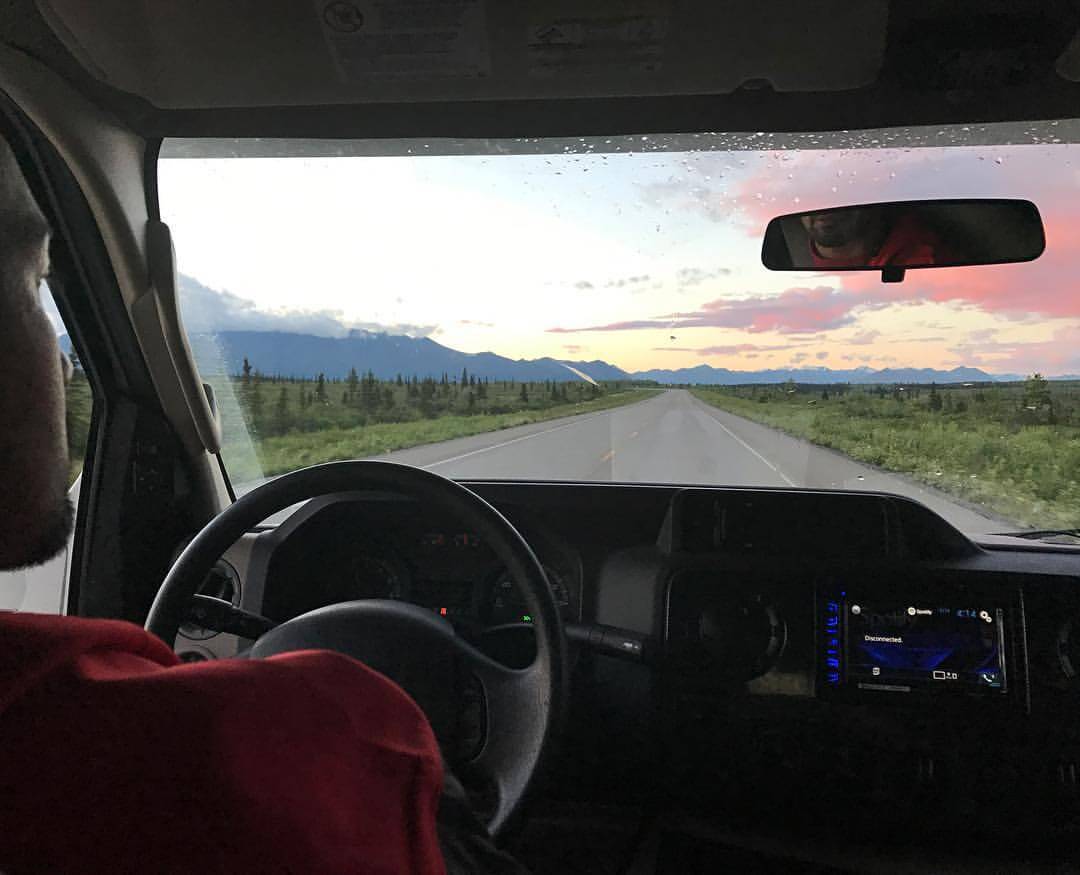 Image: Driving past Denali after midnight
We pulled over on a road after driving past Denali, my hubby was pooped and I was still drooling at the beauty outside. At this point, it was after midnight and it was still light out!
Day 5: We kept carrying on, and ventured north to Fairbanks. We stopped at an old Mining town and grabbed some lunch. Our kids were embarrassing in the restaurant as usual! I would rather hide and eat in the bathroom than eat with all of my children in a restaurant.  
Image:  How I feel bringing my kids to a restaurant. 
After a memorable lunch full of fighting and family bonding, it was another long driving day. It seemed to take forever this time to drive but finally, we arrived late that evening. I remember thinking how odd it was pulling up to the RV park when we did. It was after 10 pm and the entire place was completely silent, everybody was sleeping. We were the screaming banshees that pulled up like we'd just escaped Alcatraz. It was a long day and we were ready for some fresh air, and an 11 pm barbecue.
Day 6: What we wanted to do from Fairbanks was venture East into Canada and then enter back into Alaska after exploring a bit of Canadian turf. We quickly realized that we didn't bring our passports and had to abort our short-lived idea.
The next place we really wanted to see was Valdez which was about 7-8 hours South East. We hopped on our route and ran into a town called North Pole, Alaska. Yes, it's a real place, we even saw reindeer! I was really hoping for a Christmas spectacle, but it didn't have much of that going on.
After a few hours, we had to call an audible and pulled over on a random creek to give everybody a break from driving. The creek was simple but had a small waterfall and the kids having a blast pretending like they were on a survival show. Whatever keeps the peace right?
We drove on for a bit longer and found a camping spot in a town called Paxson. I was pretty amazed because there were so many bodies of water in and around Alaska. This campground, in particular, had what seemed to be like an endless lake, perfectly peaceful, and as usual, hardly anybody around.  The below photo is where we stayed, Paxon Lake Campground, image from TripAdvisor.
Day 7: Up and at em. We didn't wake up this entire trip before 10 am. It was incredible sleeping weather, plus we always played outside until around midnight. You can't bring rules on vacation!
We headed south toward Valdez on the epically beautiful Richardson Highway. Words do not even do this drive justice. You can see a bit about the drive here, Bells Alaska made a post about what to expect along the drive.
We stopped off in a large parking lot at Worthington Glacier as we were about 25 miles outside of our destination. Our three littles were cozied up in the RV with me and I literally put a movie on for them and just started jamming out a giant bowl of guacamole in the kitchen. My husband and two older boys were excited to get out and hike up the glacier. What an experience! They loved it, drank from a fresh stream, admired nature all around them and got some great bonding in with their father dearest.  
We stopped along the road again as we were about 10 miles outside of Valdez because they had these giant rushing waterfalls that we couldn't pass up. Who doesn't love a good waterfall?
 Image:  Legit one of my favorite photos of the entire trip!  Our RV parked beside Horsetail Falls
Finally, we made it! The temperature seemed to drop quite a bit so we found a thrift store and raided the outerwear section. I always appreciate a good thrift store! Next was Safeway to load up on groceries, then finally, we got to our RV park.  
It was a long day but we had to get out and explore a bit before tapping out for the night. The town of Valdez is right on the water and is a fishing town and a big part of the trans-Alaska pipeline.   It's got the most insane beauty, but it's not the easiest place to get to. It takes hours to drive from any of the major cities. According to Wikipedia, their population is less than 4000, which doesn't really surprise me due to logistics.
Day 8: This day was AMAZING. Actually, as I'm typing this, I'm pretty sure it was Father's Day! I bought tickets to the local glacier boat tour and really just thought it'd be just okay. I was wrong. The boat ride lasted about 6 hours and the water seemed to be endless. Along the coastline, we'd see all different types of wildlife and in every direction, there was something incredible to look at. The captain was so knowledgeable which helps if you're history or nature nerd, ahem. We passed tons of glaciers and they even reached in the water and grabbed one for everybody to pass around. What a special little ice chunk that was for us all! The tour company we used was called Stan Stephens and we'd definitely go back.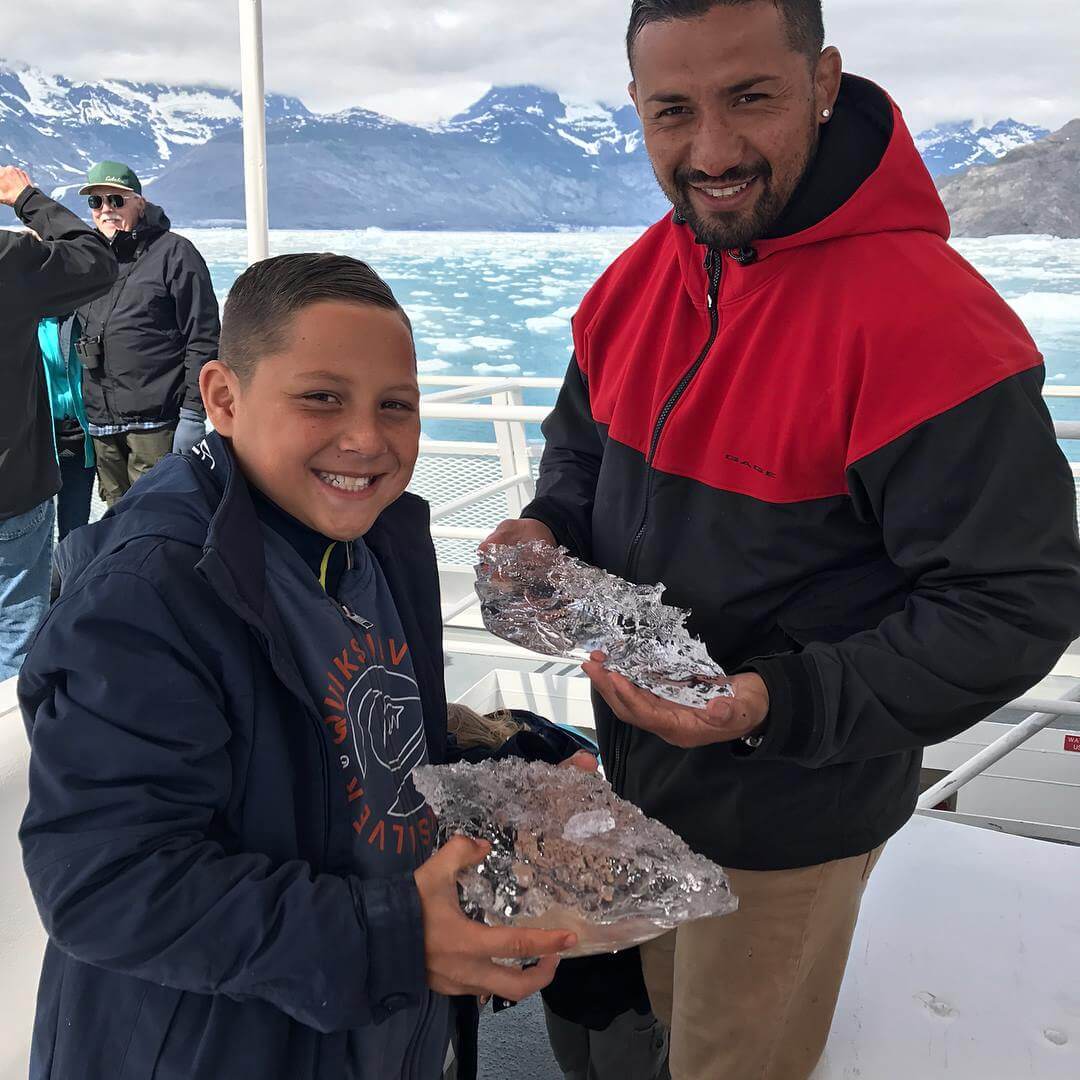 First image: Glaciers we drove right past.   Second image: Happy Hawaiians holding pieces of glaciers.
Day 9: We were soon to be meeting up with friends. Seward bound, which is a few hours South of Anchorage.   Not much going on until we got to Seward. We arrived pretty late and opted for a laundry mat and some good food. Seward was yet another gorgeous fishing town but we put off much exploration until the next day.
Day 10: We ended up meeting up and camping with some of our Hawaii friends which was incredible! I'm not even sure exactly where we were, but our campground / RV park we had for a couple of days was along the Kenai River.
Day 11: Camped, hung with friends, explored the campground.
 Image:  Smile darn it.
Day 12: Friends left! Quick reunion. We ventured on to Whittier Alaska. It was a bit of an eerie old town that you might expect in a scary movie. There was a long tunnel in and out that's actually a train track, you have to wait a long time to get through because it's a shared tunnel.
There wasn't much in the town, but we pulled up to the ocean, did some fishing, and had a great barbecue outside of our RV. It's really stuff like this that makes it most memorable, just everybody being together and balancing out the wrestling + fighting with the occasional hug or terms of endearment ;)
Day 13: We headed back toward Anchorage and ended up checking out their zoo. The Alaska Zoo was fun for all, we most loved the bears!
Day 14: We only had one more night so we found a great RV park near Anchorage to relax at and get organized for our next day departure. MEH. Wrapped up the trip with some fishing another exciting barbecue and amazing memories.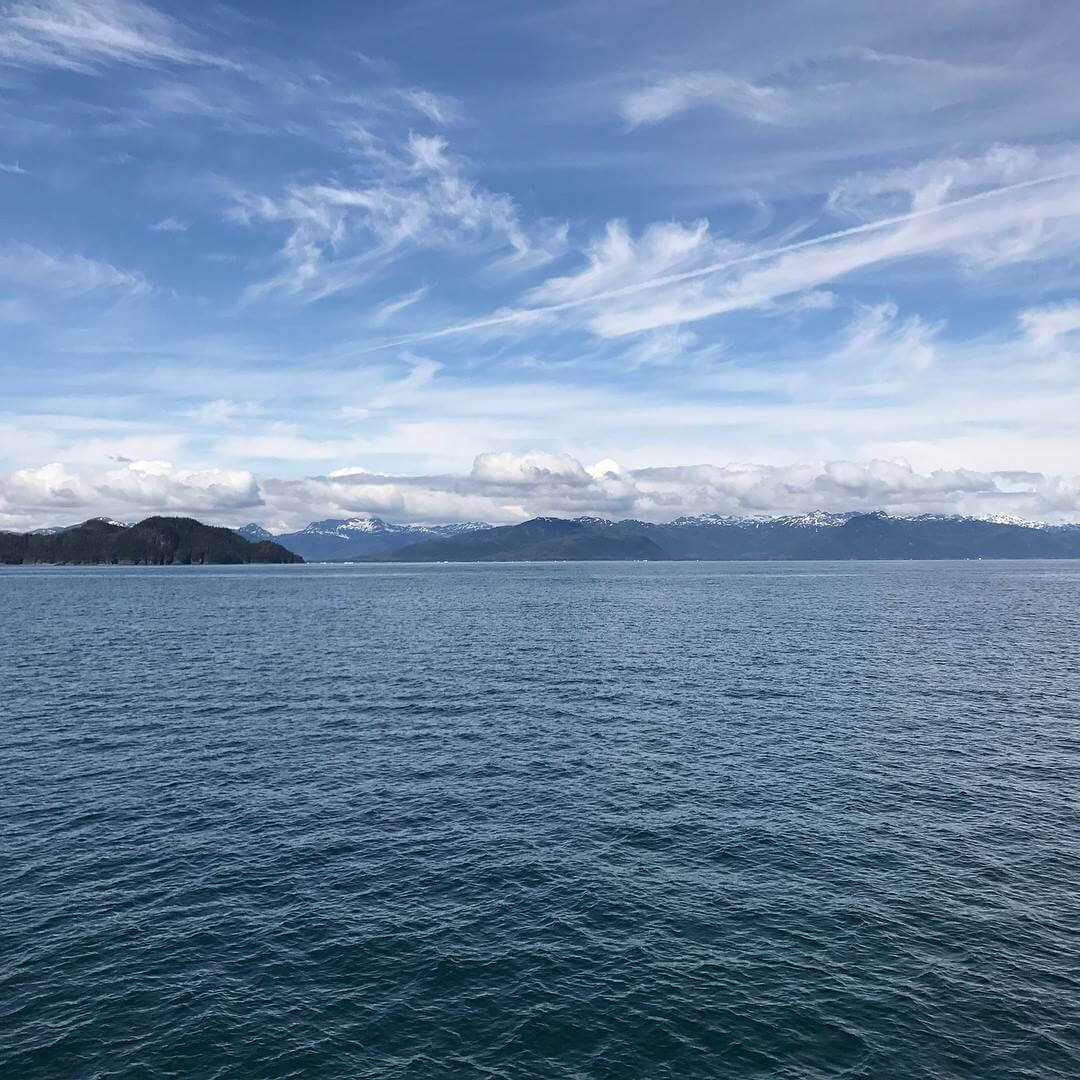 Image: Somewhere in Alaska
Day 15: Returned the RV by 9 am. They had a helpful shuttle ride to the airport. We LOVED flying Alaska Airlines.  They were fabulous with the kids, friendly, helpful, and even gave my hubby free beer. (How to make mom happy vs. how to make dad happy).
My gosh what a mouth full! It really brings me back the best memories and a full smile when I think about it. The sights, the sounds, the smells, the company, the freedom, every single bit of it was so special. The trip was unexpectedly the best trip we've ever taken, there's so much more of Alaska to explore! Maybe I should learn how to drive an RV to get an easy YES answer from my husband to go back.
Ultimately, it's all just about making memories together. Alaska was the icing on the cake.
Read Next: 
Tips for Flying With an Infant