Best Places to Register for Baby Shower
One of the most overwhelming challenges for soon-to-be mamas is figuring out what they need (and want) for their little ones. There is simply so much STUFF out there – baby gear galore, each with its promises of helping your child sleep better or eat better or perhaps just look really cute in pictures!
To ensure you don't end up with a house full of baby items you don't need or want, and to save money by not having to buy everything that you really do want, it is important for expectant parents to create a baby registry. Create a wish list that reflects not only your needs for your babies and toddlers, but also your personal style and your favorite brands. That sweet, fluffy pink blanket may not work in your modern nursery with shades of tangerine and turquoise. (But bear in mind your great aunt Millie is probably going to give you the pink blanket anyway, admonishing your "outlandish" color choices. "Orange…in a NURSERY?")
When it comes time to register, consider retailers that are widely accessible, with both physical locations and an online presence. If your town's upscale, locally owned baby boutique is your absolute favorite, be sure you also register at a national chain to offer options for out of towners. 
Amazon
Well, duh! Of course, you can create an online baby registry on Amazon, and your friends and family will thank you for it. Prime members will save an extra 15% on eligible items in your Amazon baby registry, and you will also receive a free "welcome box" of goodies from Amazon. Their 90-day return policy will ensure you can send back the items you later decide you don't need, and in a stroke of pure brilliance, they even created a diaper fund. You can opt into this feature, which allows friends and family to contribute to a diaper fund that will come to you in the form of an Amazon gift card. We cannot overstate how much you will appreciate this when the time comes! You will have days when you wonder if your entire life's savings is going to be depleted by diaper purchases.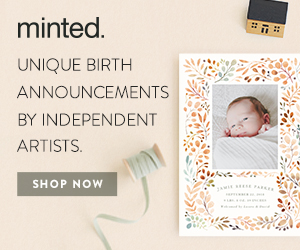 Target
No one does stylish and affordable baby products quite like Target, and their nursing and pregnancy items may very well inspire all your decorative choices for your little one's new room. While last-minute gift givers may rely on Amazon Prime for speed-of-light shipping, Target has relatively quick shipping times as well (plus FREE shipping for purchases over $25) and an impressive selection of items that cover every style and every budget.
MyRegistry.Com
If you want to create a "one stop shop" for all of your guests, myregistry.com is your "universal" list, where you can add registry items from any store or site (including Amazon and Target.) One of the best features here is the ability to send ecards to guests (your shower hostess can do this for you) directing them to your registry. Perhaps your choices in everything from baby bedding to clothing to bottles come from a wide variety of stores, and here you can store them all in one place! If you're a sucker for the adorable threads at Janie and Jack but are also hoping someone will generously spring for the Medela Breast Pump, you can get organize them all in one place for your shower guests to see.
Local Stores
If the aforementioned local boutique is still your favorite choice, go ahead and create a baby registry, but ask important questions first: what is their return/exchange policy? Does the store have a website where items can be purchased by out of towners? Will they offer any sort of discount to your guests? Supporting a local retailer is always a great thing to do – just be sure they can accommodate your needs with a fair return policy first.
Tips for Creating Your Registry
Once you have narrowed down WHERE you want to register, the next part can be even more overwhelming: choosing the items! Did you ever just "pop on" to Amazon to order one item and two hours later you find yourself reading reviews for underwater cameras, because maybe just maybe you will want one for the tropical vacation you hope to take after the baby comes? Well, maybe after the baby goes to college….
Getting lost in the online sea of goods can be a real time suck, so consider this baby registry a mission and start with a strategy.
Nursery theme/style. Don't bother starting the registry process if you haven't narrowed this down yet. At the very least you should know the color scheme of your nursery before you register.
Gender. If you have opted to find out the sex of your baby, wait to register until after the doctor has shared the exciting news! If you are going the surprise route, luckily there are plenty of gender-neutral items out there for your list.
First-time or a veteran mama? If this is not your first child, assess the items you still have on hand from your last baby and consider what can be re-used and what needs to be replaced. Be mindful that some items (such as car seats!) DO come with an expiration date.
Variety! Make sure your list includes everything from under-$20 items to the big-ticket purchases such as cribs, changing tables, sleepers, strollers, and breast pumps. Even some baby food can be stocked up ahead of time to save you a bulk purchase down the road. Your shower guests will inevitably have a wide range of budgets, and you want to give them plenty of choices.
Reviews are Your Friend! Luckily many mamas have gone before you to test these products, so be sure to read some reviews online before you add items to your own registry.
A Final Tip for Your Baby Shower Gifts
Some mothers will encourage you to wash all of your baby clothes in a gentle detergent before you come home from the hospital with your tiny bundle of joy. They will tell you what a time saver this will be later on…but wait! Wash ONLY a week's worth of clothes – some basic onesies, for example. Until that little (or not so little) one arrives, you won't know how quickly you may blow through sizes. You can ask your baby shower guests to purchase a variety of ages so that you've got the whole spectrum covered. The 0-3 month outfits you received at a shower may go to waste if your baby seems to jump overnight into 6- month clothing! Or, the seasons may not align in your favor, with a precious warm jacket in a 3-month size that your baby has outgrown by the time the temperatures are cold enough in your area. If you keep the tags on this clothing, you may be able to exchange most or all of it for things that DO work. So, wash these items as needed and not all at once.
Read Next:
Our Top Pregnancy Resources (2019 Edition)
5 Keys to the Perfect Diaper Bag